W970 In-Wall Speaker - W970
- W970
Incredible, adjustable in-wall sound from Revel
Revel's W970 in-wall speaker delivers elite sound with flexible placement options. It also offers a host of adjustments that let you tailor its output to match your room and seating arrangement. The W970 is an excellent choice for a high-end in-wall stereo system, or as a left or right channel in a Revel home theater system.
Easy-to-access controls
The front panel of the W970 provides easy access to its sound adjustment features. The 1″ tweeter has a three-position output level switch which lets you cut or boost high frequencies — a valuable adjustment if you have reflective surfaces like hardwood floors or windows, or absorptive surfaces like thick carpets or upholstered furniture.
The W970's 7″ woofer features a boundary compensation switch, so you can adjust low-frequency output if the speaker is installed near a corner to prevent potential boominess. This speaker even features high-frequency tilt and listener axis controls, which let you compensate for both vertical and horizontal placement limitations.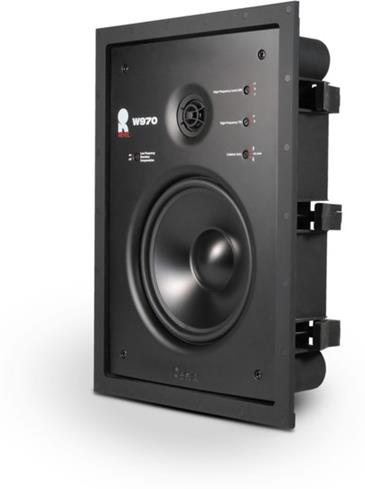 The Revel W970 in-wall speaker offers a host of sound adjustments to tailor its performance to your room.
High-quality design for long-term performance
The W970 has a few other notable design highlights. Its tweeter waveguide helps provide great sound for listeners directly in front of the speaker, as well as those positioned off to the side.
Its advanced high-order crossover network allows the woofer and tweeter to blend together seamlessly. And high-quality push-post input terminals provide a solid connection with your speaker wire.
Who is Revel?
Revel is one of the high-performance audio companies of global electronics giant Harman International. Since 1996, Revel has used cutting-edge design tools and one-of-a-kind testing facilities to develop speakers that measure well and sound amazing. The intensive design work happens at Harman's state-of-the-art speaker R & D facility in Northridge, California.
Product highlights:
ideal for an in-wall music system or as the left or right channel of a home theater system
7″ micro-ceramic composite (MCC) woofer with cast-aluminum frame

boundary compensation switch adjusts low-frequency output when the speaker is placed near a corner
long-throw woofer design with rubber surround for high output and low distortion

1″ aluminum dome tweeter

three-position tweeter level control cuts or boosts high-frequency output to ideally suit your room's acoustics
integrated waveguide provides excellent on- and off-axis performance

high-frequency tilt (horizontal) and listener axis (vertical) controls help compensate for less than ideal speaker placement
high-order crossover network features premium-quality components to deliver extraordinarily accurate timbre reproduction
recommended amplifier power: 10-150 watts
paintable zero-bezel magnetic grille
sensitivity: 88 dB
cutout dimensions: 10-1/2″W x 14-15/16″H
overall dimensions: 16-7/16″W x 12-1/8″H
mounting depth: 3-3/4″
weight: 12.6 lbs.
warranty: lifetime
Request A Quote