W363 In-Wall Speaker - W363
- W363
A value-packed in-wall speaker from Revel
Revel's W363 in-wall speaker offers accurate performance at a solid value. This model is a step-up from their entry-level W263, and it features an improved 6-1/2″ micro-ceramic composite (MCC) woofer for better bass and midrange performance. This speaker is an excellent choice for an in-wall stereo system, or as a left or right channel of a Revel home theater system.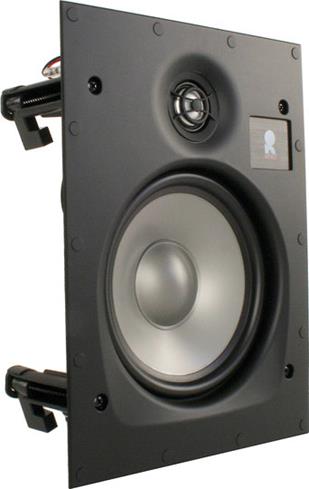 The Revel W363 in-wall speaker features an integrated tweeter waveguide, which provides excellent performance across a wide listening area.
Trickle-down technology
The W363 benefits from the research and design work that went into Revel's higher-end in-wall speakers. For instance, the speaker's integrated tweeter waveguide helps provide great sound across a wide listening area. And its high-order crossover network allows the woofer and tweeter to blend together seamlessly.
The W363 also features high-quality push-post input terminals for a solid connection with your speaker wire. A lifetime warranty ensures excellent long-term performance.
Who is Revel?
Revel is one of the high-performance audio companies of global electronics giant Harman International. Since 1996, Revel has used cutting-edge design tools and one-of-a-kind testing facilities to develop speakers that measure well and sound amazing. The intensive design work happens at Harman's state-of-the-art speaker R & D facility in Northridge, California.
Product highlights:
ideal for an in-wall music system or as the left or right channel of a home theater system
6-1/2″ micro-ceramic composite (MCC) woofer with cast-polymer frame

long-throw woofer design with rubber surround for high output and low distortion

1″ aluminum dome tweeter

integrated waveguide provides excellent on- and off-axis performance
tweeter is aimable to direct high-frequency details towards you

high-order crossover network delivers accurate timbre reproduction
paintable zero-bezel magnetic grille
recommended amplifier power: 10-120 watts
sensitivity: 88 dB
cutout dimensions: 7-3/8″W x 9-7/8″H
overall dimensions: 8-3/8″W x 10-7/8″H
mounting depth: 3-5/8″
weight: 3.8 lbs.
warranty: lifetime
Request A Quote